HOME>4 AXIS DISPENSING ROBOT>SR-LF-R Series
SR-LF-R Series R AXIS DISPENSING ROBOT
Function & Features
No PC Required, Easy Usage and Install.
EP Own 4 Axis Software, Maintain Good Precision After the Tip Replacing.
Directly Auto Cad DXF File Transfer To Programming.
Apply 3D Dispensing Path, 4 Axes Can Move Simnlataneously.
Improve The Incapable Motions Of 3 Axis Robot, R Axis Can Do Rotate and Dispense in Workpiece's.
Cannelure or Part's Clearance.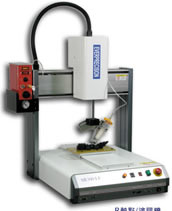 4 Axis Dispensing Robot